The Buick Brand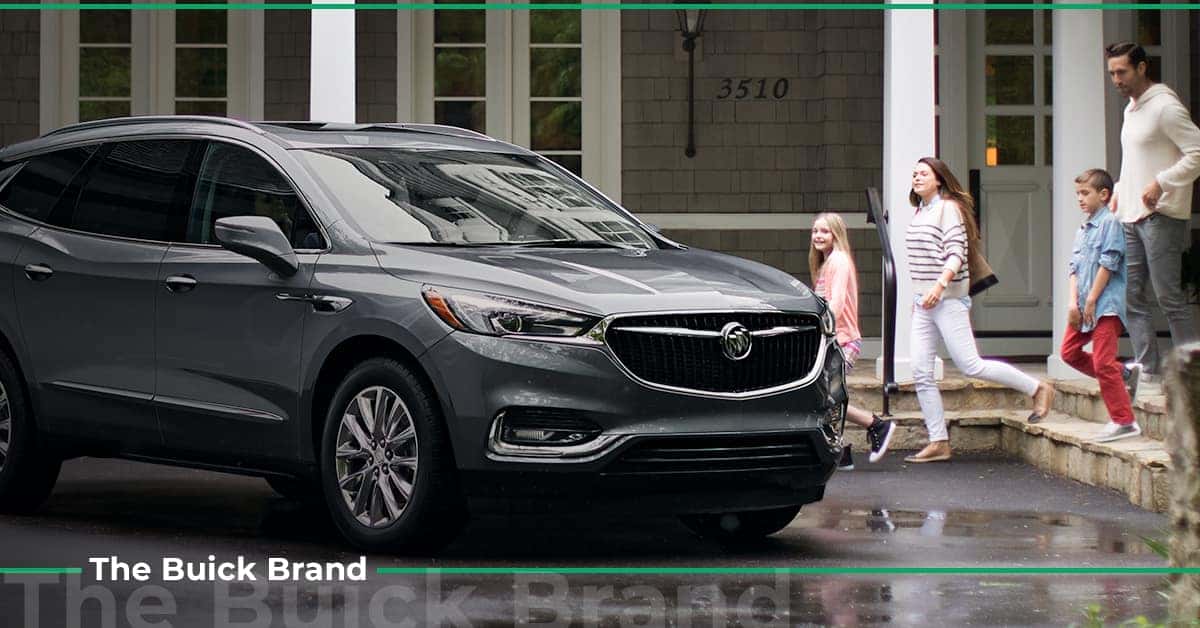 Buick has been one of the longest-lasting brands in the automotive field, in fact, it's considered by many to be the oldest American automobile marque. From humble origins to global appeal, the Buick brand has been a leader since the first car rolled off the production line in 1899. In the more than 100 years since then, they've established themselves as the pinnacle of luxury cars and SUVs, known for their enviably smooth performance and quiet rides.
Markley Motors has been a part of this lasting legacy since 1979 when we first brought the brand to the Fort Collins community. In the time since we've helped families all over Northern Colorado find the perfect Buick vehicle for their needs. As a nod to their lasting appeal, we felt it important to explore the history of this enduring brand.

The Buick legacy started in the most unexpected of places. Originally a plumber, the Scottish-born David Dubar Buick reimagined his life in his mid-30s when he took an interest in gasoline powered engines. Working in Detroit, Michigan, Buick collaborated with chief-engineer Walter Marr to create their first two automobiles in 1899 and 1900 as the Buick Auto-Vim and Power Company. But the collaboration was not to last long, as Buick was fascinated by stationary and marine engines, while Marr wanted to pursue auto design totally. Marr left the fledgling company and was replaced by Eugene Richard, who applied for a patent for the valve-in-head engine that Marr had originally designed.  
After a series of moves from Detroit to Flint, and a name change to the Buick Motor Company in 1903, Marr was rehired, and the company began producing cars at break-neck speed. In 1903, Buick rolled 37 cars off its assembly lines. Just two short years later, Buick manufactured 750. By 1908, they manufactured 8,800 vehicles, outpacing competitors like Ford, Oldsmobile, and Maxwell.
The Spark of Change
This remarkable growth was all thanks to clever buying and selling of controlling shares. Much of Buick's early success was thanks to a group of individuals who were excited by the future of automobiles and bought shares of the company on that idea alone. In particular, Benjamin Briscoe held a controlling share of the company. As the company began to produce new designs and cars, Briscoe decided to cash out and sold his share to James H. Whiting.
The sale would prove to be an important one. Whiting was the owner of Flint Wagon Works, which made basic wagons in his factory in Flint, hence the move from Detroit. With the engine making capabilities of Buick and the frame making systems of Flint Wagon, the two mated their respective products together to create more vehicles faster. However, Withing ran out of money faster than he expected, forcing him to bring in William C. Durant as a controlling investor in 1904.
Durant would prove to be the catalyst for the explosive production of Buick cars. Durant was the co-owner of the Durant-Dort Carriage Company, which was one of the largest carriage producers in the world. Durant helped to establish the first official Buick factory. The facility opened in 1907 in Flint.
It was Durant's naturally aggressive promotion and sales skills that made Buick the leader in automobile production and sales. Durant was also the mastermind behind what would eventually become General Motors. Durant purchased several competing brands, and instead of having them for the same market share, made them target specific market segments. Buick would be the crown jewel of General Motors, billed as the luxury vehicle of choice for those wanting an unrivaled driving experience.
Early Innovations Secure a Lasting Legacy
Buick's first full-size car was the Model B, released in 1907. It was a simple but elegant design but was a good starting point. Just four years later, Buick released their first closed-body car, four years before Ford did. But it was Marr's OHV engine that would make them the global phenomenon they are today. This engine was powerful and reliable, enabling them to create more practical vehicles than their competitors.
Throughout the1920s, Buick expanded its lineup of cars, offering classics like the Roadster and the Master that pushed the standard of exterior and interior design across the industry. During the 1920s and 1930s, Buick created new features, like turn signals in 1939. Turn signals wouldn't appear on many other cars until nearly a decade later. They also produced steering column mounted shift levers, features that made driving safer and easier to enjoy.

Building Bombers and Buick
While Americans were happy to purchase Buicks, even in the midst of the Great Depression, Buick had to shift gears as the pressures of the Second World War began to mount. To meet the growing threat of global fascism from governments in Germany, Italy, and Japan, the United States became the arsenal of democracy. Re-tooling the nation's immense industrial might, the U.S. produced bullets, bombs, tanks, airplanes, and more, arming the freedom-loving armies of the world, including the United Kingdom, France, Australia, and Canada.
As one of the largest automobile manufacturers in the U.S., Buick naturally played a role in this process. Buick retooled its factories, and instead of making luxury cars, they produced vehicles that would see action around the globe. Of particular note, Buick would build more than 2,500 M18 Hellcat tank destroyers. Regarded as one of the fastest tanks of the war, and seen as one of the most successful designs, the M18 was highly praised by GIs.
Buick's work took off during this period in a very literal sense. The company also produced aircraft engines for the B-24 Liberator heavy bomber, Douglas C-54 Skymaster, and C-47 Skytrain cargo planes. Wherever American fighting troops were, a Buick made tank or engine wasn't far behind them.
Buick's Post-War Work
As the war came to a close, Buick began to refocus on the consumer market. Sales skyrocketed, as recently returned service members spent military bonuses on new cars. Along with the sales, Buick created new designs and models, like the Dynaflow automatic transmission, a high-compression V-8, and the brand's famous pillar grille.
Throughout the 1950s, 1960s, and 1970s, Buick continued to be the brand of choice for many Americans, and the company met their needs with an ever-expanding and evolving lineup that appealed to nearly every market segment. By the 1980s, Buick's general manager, Edward H. Mertz noted that the company's success was owed to its commitment to building cars that were eye-catching, powerful, and luxurious.

Buick Enters the 21st Century
Now more than a century old, Buick has never lost its forward-thinking approach. This is evidenced by its banner year in 2014, where the brand smashed its sales records, selling more than 1,170,115 vehicles worldwide. These sales are tied to Buick's expansion into new vehicle types, now selling cars, crossovers, wagons, and SUVs, all benefiting from Buick's commitment to unyielding comfort and quality.
With options like the Encore, Buick has struck a new balance in comfort, performance, and practicality. All of Buick's current offerings benefit from advanced features like QuietTuning technology, with makes use of multiple door seals, window layments, and even the design of the interior's trim, to dampen outside road and engine noise. With advanced suspension designs and improved steering and handling, Buick has created a series of vehicles that are remarkably quiet and smooth.
Buick has also made safety a priority, integrating features like OnStar into their vehicles. With other features, like blind spot detection, lane departure warning, forward collision alerts, and rear cross traffic alerts, it's now easier than ever to arrive at your destination safe and sound.

Become a part of the Buick legacy get behind the wheel of a new car or SUV today. Northern Colorado knows that when they're looking for the best selection and pricing on Buick vehicles, they go to Markley Motors in Fort Collins. Serving surrounding communities like Loveland, Greeley, Longmont, and Windsor since 1936, we offer some of the best financing options around. To enjoy your Buick for years to come, you can bring your car back to our service department. Our auto body shop and auto glass shop make use of factory OEM parts, which maintain the performance and appearance of your Buick.
Drop by our Buick dealership in Fort Collins today to see the complete Buick lineup, and to ask about pricing and availability on your favorite models! Visit Markley Motors in Fort Collins today and experience the Markley Difference for yourself!